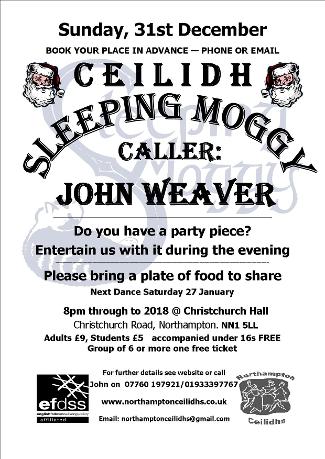 Details of Dances
We hold monthly dances from September through to May/June.
The next dance starts at 8pm (doors open 7:45) and finishes at 11pm.
There is a licenced bar , off street parking at the hall and ample free on street parking locally
Cost
Adults £9, Students £5, accompanied under 16s FREE
Group Admission
Groups of 6 people qualify for 1 free admission
Join Us - Whether you're an experienced dancer or brand new to the dancing scene come and join us at our monthly ceilidhs/barn dances
Join us for our New Years Eve Ceilidh on Sunday 31st December and see the 2018 in with good friends and one of our favourite bands, Sleeping Moggy with caller John Weaver. There will also be a bit of calling input from Bubbles and John Green.
There is no formal interval spot but if any of you has a song or some other party piece you want to perform either contact us beforehand or have a word on the night.
We ask everyone to bring a small plate of food to share.
Last night's dance was an unqualified success with the return of Cambridge based band Passerida and young caller Paul Martin. Paul has previously called at our ceilidhs with Cambridge University Ceilidh Band. The interval spot featured distinguished local Morris musician (Brackley Morris, Rapskallion and Old Mother Redcap among others) Stephen Ferneyhough who took time off from celebrating his birthday to give us 4 fine and individual renditions of such popular folk classics as The Nutting Girl, Dedicated Follower of Fashion and an adaptation of Millie's My Boy (Girl) Lollipop. Great fun from a good friend of Northampton Ceilidhs.